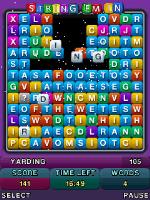 Tag:
9700 games
String Em In
Overview :
String Em In for 89,96,9700 games
Model:
Blackberry 89XX (Javelin) Curve Series (480*360): 8900/Blackberry 96XX Tour (Niagara) Series (480*360):9600, 9630, 9650(Tour2), 9700(Bold)
Description:
String letters together to form words and watch the grid shift and shrink with every correct one!
You have a set time (from 30 minutes to 30 seconds) to make as many words as you can from a grid of letters.
Score points for every word made according to the value of the letters and the length of the word. Clear the grid to earn bonus points.
String 'em In is a strategy filled word game with a ticking clock. You'll need to think strategically to win more points and the clock is always ticking!
Product Features
* Power Plays, Swap Letters and Hot Word add to the drama
* Infinite word grids generated at random mean you will be playing for hours
* Five different play modes; Gentle, Medium, Hard, Fiendish and Endless