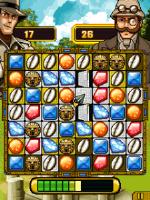 Tag:
Jewel Quest
World Advent
Overview :
Model:
Blackberry 95XX Storm Series (360*480):9500, 9510, 9520, 9530, 9550(Storm2)
Description:
Travel the globe, raid ruins, solve perilous puzzles and help daring explorers Rupert and Emma save their daughter's sight in the ultimate jewel matching world adventure.
Tackle 70 jewel boards, 30 puzzles and 12 speed boards. Test your skills in Quick Play, Adventure, Puzzle, and Speed modes. Draw on mystical new Power Ups as you help Rupert and Emma follow cryptic clues in their worldwide quest for the fabled Golden Jewel Board which has powers far greater than what meets the eye!