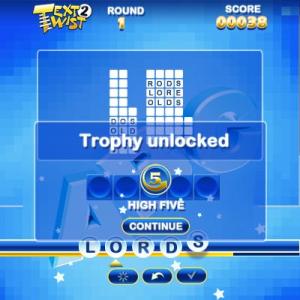 Tag:
Text
Twist
Overview :
Model:
Blackberry 95XX Storm Series (360*480):9500, 9510, 9520, 9530, 9550(Storm2)
Description:
Twist letters again with TextTwist 2, the sequel to one of the most popular word games of all time! Shuffle the letters and form words in this fun game for the entire family.
Try your skills in five challenging game modes. Play the original Timed and Untimed modes or take it to the next level with three other exciting modes: Letter Mania, Lightning, and Daily Word. In Letter Mania, fill in the whole anagram grid before time runs out.
Each letter used is replaced by another. In Lightning, unscramble all five words as quickly as possible. Finally, with Daily Word, challenge yourself once a day to find the longest word available. TextTwist 2 features a huge library of words to find and keeps track of all your playing statistics, plus much more.
Win trophies to show off your word knowledge and unlock many cool fun facts to impress your friends with as well. A must-have for word game fans, the learning excitement is endless in TextTwist 2! Twist letters and make as many words as possible against the clock Play five fantastic game modes to challenge your word knowledge Win trophies and unlock cool fun facts to share Tens of thousands of words keep the excitement endless Play continuously or in short bursts of fun.