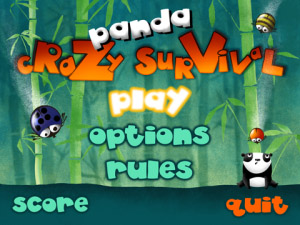 Tag:
Panda
9800 games
Survival
Overview :
FREE Panda Survival v1.0.1 for blackberry os4.6+ games
Required Device Software:
4.6.0 or higher
Supported devices:
Blackberry 87xx, 88xx, 89xx, 90xx, 91xx, 93xx, 95xx, 96xx, 97xx, 9800, 9810, 9860, 9900, 9930

Description:
Panda Survival FREE is a real Bomb!!!
The game that doesn't leave indifferent!!! The game that will never let you get bored!!! The game created to make your life more colorful and crazy!!!
The right game for you, great gamers!!!
Once upon a time, in a bamboo paradise, there lived a Freaky Panda. Freaky Panda was a lovely friendly animal that enjoyed every day of her life. She spent her days and nights eating bamboo, sitting on the trees, dreaming about great adventures!!!
But suddenly everything turned upside down. Armies of Evil Bugs invaded the bamboo paradise. They destroyed the bamboo and killed Freaky Panda!!!
- Do you want to change the end of this fairy tale???
=) So play Panda Survival!!!
The main aim of the game is to escape from Evil Bugs!!! Run to the left or to the right and try to save Freaky Panda from insects!!! The final score is the number of Evil Bugs that Freaky Panda has managed to avoid with your help!!!

FEATURES:
- CREATIVE DESIGN;
- CRAZY SOUND;
- STRONG ADDICTION.
Change the end of the tail, save Freaky Panda!!!
***** Have Fun! *****
If you like this app - please leave a good review. If you don't like it, please contact us first and we will be able to fix your problem for you!
~~ With Love, Your TSV !!! We are the Champions =) ~~