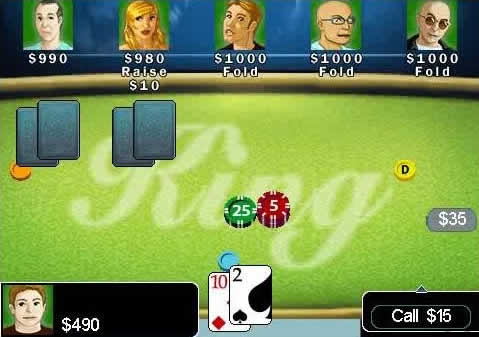 Tag:
texas
King
8900 games
Overview :
Texas Hold'em King 3
Description:
The latest edition of the best Texas Hold'em mobile franchise, with fast and brilliant game play and networked multiplayer tournaments. Join an online poker community of over 100,000.
Texas Hold'em King 3 is the latest installment in one of the most popular mobile poker franchises. This latest edition improves upon the franchise's already fast, brilliant game play and adds improved multiplayer features. Single Player Mode features a unique "Turbo Mode" that fast-forwards you to the end of a hand once you've folded. In MultiPlayer mode you can play online against other mobile players. Through the extensive mobile poker community, you can submit various high scores for bragging rights, view other players' profiles, manage your buddy lists and message opponents in-game. In Contest Mode, you also have a chance compete against others to win prizes through special Magmic promotions.
Tips
1. If you're playing against real opponents be prepared to wait for real decisions! A little encouragement (chat) might help.
2. If you want to maintain your bankroll don't update your devices firmware without backing up your BlackBerry.
3. If you have problems please contact appworldsupport@magmic.com. We can't fix issues if you don't file a support ticket and give us details!
Model:
Blackberry 89XX Curve Series (480*360): 8900(Javelin), 8910(Atlas), 8930, 8950, 8980/Blackberry 90XX Bold (Onyx) Series (480*320) Devices Models: 9000, 9020(Onyx)/Blackberry 96XX Tour (Niagara) Series (480*360):9600, 9630, 9650(Tour2), 9700(Bold2), 9780, Dakota, Apollo