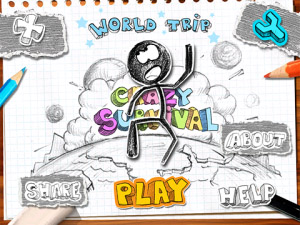 Tag:
99xx
Crazy
9930 games
Survival
Overview :
free Crazy Survival 1.5 World Trip for blackberry games
size: 7.349 MB
Model: Pearl 8100, Pearl 8110, Pearl 8120, Pearl 8130, Pearl Flip 8220, Pearl Flip 8230, Curve 8300, Curve 8310, Curve 8320, Curve 8330, Curve 8350i, 8700, 8707, 8800, 8820, 8830, Bold 9000, Pearl 9100 3G, Pearl 9105 3G, Curve 8520, Curve 8530, Curve 8900, Curve 8910, Curve 8980, Bold 9000, Curve 9300 3G, Curve 9330 3G, Tour 9630, Bold 9650, Style 9670, Bold 9700, Bold 9780, Bold 9788, Curve 9350, Curve 9360, Curve 9370, Storm 9500/9530, Storm2 9550/9520, Torch 9850/9860, Torch 9800, Bold 9790, Torch 2 9810, Bold 9900/9930, 9981

Description:
The creators of the game Crazy Survival present Crazy Survival World Trip the long-awaited continuation can be already on your phones. Only one click will solve the problem of boredom for the next weeks.
Millions of users already know that Crazy Survival is the bomb, but nobody knew that it was just the begging…
The Beginning of … great love. Great love in a crazy cruel world.
There were only two of them, always together, always happy. Till a hooligan decided to break this story. He stole the girl and with the girl he stole peace and life of Crazy Man.
Now to find his better-half Crazy Man has to fight against the whole world, he will cross countries and continents, but will he find her?
The answer depend on you, player.
To find his girlfriend Crazy Man should pass seven continents. The enemies of Crazy Man are balls, rockets, spikes, comets… To move to the next continent Crazy Man should pass 15 levels. To pass the levels he has to stay alive, collect stars or get points. It will be a very dangerous trip, so be prepared.
TRAILER: TRAILER: http://www.youtube.com/watch?v=PMyhamT-4yc
FEATURES:
- breathtaking story;
- beloved character against powerful villain;
- good graphics;
- nice sound;
- interesting levels;
- fantastic game!
- all continents in Premium Version!
***** Have Fun! *****
If you like this app - please leave a good review. If you don't like it, please contact us first and we will be able to fix your problem for you!
~~ With Love, Your TSV!!! We are the Champions =) ~~