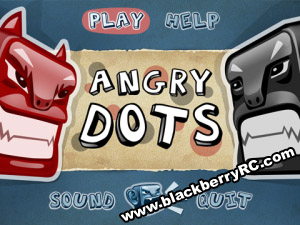 Tag:
9780 games
9800 games
Angry Dots
Overview :
Angry Dots v1.0.1 for blackberry 97xx 96xx 89xx 9800 games
os 5.0, 6.0
Model : 97xx 96xx 89xx 9800

Description:
Angry Dots is the game we all played, during long and boring lessons, during the breaks, on our vacations. At that time we didn't need phones, just paper and pens. Now we have phones and we have this splendid game Angry Dots on them.
The rules are simple and haven't changed from that time. So we have a board with dots. The boards can be of different size: small, medium, large. It means that there are different levels of difficulty. What you have to do is to draw the lines to connect the dots. If you manage to close the box with your line, than your receive a point. When all the boxes are closed the game will be over and the winner will be the one with more points.

Characteristics:
- 3 different game boards;
- different rivals;
- nice graphics.
P. S. Don't be shy and let us know whether you like the application or not.
Feel free to contact Contlex Ventures team if you have some problems with the application and we will do our best to solve it. Thank you.
Enjoy your time with Contlex Ventures!