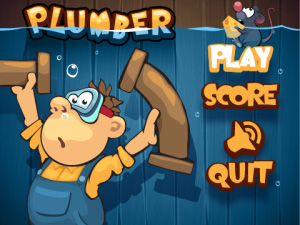 Tag:
8520 games
9300 games
Plumber
Overview :
free Plumber v1.0.3 for blackberry 8520,9300 games
OS 4.6,5.0,6.0
Model: Curve 8520, Curve 8530, Curve 9300 3G, Curve 9330 3G

Description:
Have you ever thought how freaky, crazy and difficult profession of a plumber can be?
OOhhh , Plumber is exactly what you need then!!!)
Logic and dynamic, fresh and a little bit wet game designed by Contlex Ventures for you, plumbers and no plumbers.
So, newly-made plumber, your mission is to connect pieces of the pipe in one, so that the water can flow from one side of the screen to another.
As soon as a player manages to do that and turns on water,
a new puzzle with new pieces of the pipe will appear on the screen.
Please, keep in mind, that your time is limited and that your score depends on the number of the pipes (puzzles) you will manage to do!
Features:
* splendid game;
** fantastic design;
*** great sound.
Explore new profession, let the water flow!!!
P. S. Don't be shy and let us know whether you like the application or not.
Feel free to contact Contlex Ventures team if you have some problems with the application and we will do our best to solve it. Thank you.
Enjoy your time with Contlex Ventures!