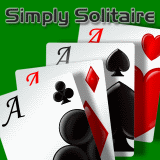 Tag:
Solitaire
Simply
Overview :
free Simply Solitaire v1.0 games for blackberry

Description:
Simply Solitaire is the classic card game also known as Klondike. Designed specifically for BlackBerry smartphone with Trackball/Trackpad, or Touchscreen for best user experience.
Taking a standard 52-card deck of playing cards, one upturned card is dealt on the left of the playing area, then six down turned cards (from left to right). On top of the down turned cards, an upturned card is dealt on the left-most down turned pile, and down turned cards on the rest until all piles have an upturned card. The piles look like the figure to the right.
The four foundations (rectangles in the upper right of the screen) are built up by suit from Ace to King, and the tableau piles can be built down by alternate colors, and partial or complete piles can be moved if they are built down by alternate colors also. Any empty piles can be filled with a King or a pile of cards with a King at the top.
Free demo - 10 games
Option for draw one or three cards
Double click to move card to Ace stack
Drag and drop play on Storm
Option for Storm to "touch" screen instead of "click" screen for single and double tap/click
Option to change background color
Option to auto finish game when all cards are face up and draw deck is empty
Option to limit deck to 1, 2 or unlimited number of cycles
Minimum requirements:
Operating System
4.2, 4.3, 4.5, 4.6, 4.7 Non-Touch, 4.7 Touch Screen, 5.0 Non-Touch, 5.0 Touch Screen
Model:
Blackberry 71XX Series (240*260) Devices Models: 7100, 7110t, 7105t, 7100r, 7100v, 7100g, 7100x, 7100i, 7130e, 7130c, 7130g, 7130v/Blackberry 81XX Series (240*260) Pearl Devices Models: 8100, 8110, 8120, 8130/Blackberry 82XX Series (240*320) Pearl Flip Devices Models: 8200, 8220, 8230/Blackberry 8350i (320*240) Related Devices Model: 8500, 8520, 8530, 9300(Kepler), 9330/Blackberry 83XX Series (320*240) Curve Devices Models: 8300, 8310, 8320, 8330 / Blackberry 87XX Series (320*240) Devices Models: 8700c, 8700r, 8700f, 8700g, 8703e, 8707, 8707g, 8707v .etc /Blackberry 88XX Series (320*240) Devices Models: 8800, 8820, 8830 .etc /Blackberry 89XX Curve Series (480*360): 8900(Javelin), 8910(Atlas), 8930, 8950, 8980/Blackberry 90XX Bold (Onyx) Series (480*320) Devices Models: 9000, 9020(Onyx)/Blackberry 96XX Tour (Niagara) Series (480*360):9600, 9630, 9650(Tour2), 9700(Bold2), 9780 /Blackberry 95XX Storm Series (360*480):9500, 9510, 9520, 9530, 9550(Storm2), 9570(Storm3), 9800(Torch)/Blackberry Pearl 3G Series (360*400) Devices Models: 9100, 9105, 9670(Style)