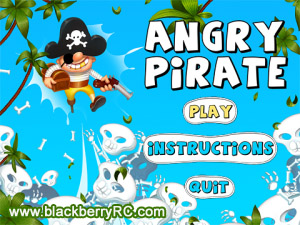 Tag:
9800 games
Contlex
Angry Pirate
Overview :
free Angry Pirate v1.0.1 for 95xx,9800 games (360x480)
OS 4.7,5.0,6.0
size : 2.6 MB
model: Storm 9500/9530, Storm2 9550/9520, Torch 9800

Description:
The life of a pirate is full of rum and taverns, adventures and dangers, unknown places and heavy gales. They are angry, cruel and fearless, play with fire and get in troubles…
Friday night, at the ends of the earth, there was a shipwreck. Only one man survived, survived to find himself in a cursed island with the only inhabitant - skeletons. The man was not an angel, he was a pirate, and, of course, has his gun with stray bullets are always with him… This is the beginning of a new incredibly good pirate game - Angry Pirate.
There are no rules in the pirate world, but nevertheless, don't be afraid, aim at skeletons, mind the trajectory of the stray bullets, destroy the evil and pass to the next level pack.
Characteristics:
*3 level packs;
** crazy bullets;
*** angry pirate.
P. S. Don't be shy and let us know whether you like the application or not.
Feel free to contact Contlex Ventures team if you have some problems with the application and we will do our best to solve it. Thank you.
Enjoy your time with Contlex Ventures!