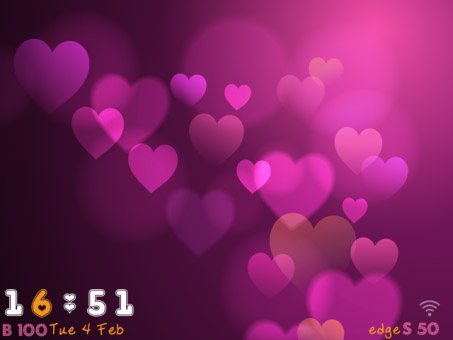 Tag:
love
Overview :
DUE TO LACK OF BlackBerry® THEME STUDIO 7 FOR MAKING CUSTOM THEME FOR BLACKBERRY, THE ICONS ARE INVISIBLE IN SYSTEM FOLDERS. SO PLEASE USE UNIVERSAL SEARCH FOR FINDING YOUR DESIRED APPLICATION BY ENTERING ITS NAME(FOR EXAMPLE IF YOU WANT TO OPEN PICTURE FOLDER SIMPLY TYPE PICTURE).
CALLING SCREEN ARE ALSO IN DEFAULT LAYOUT FOR OS7/7.1 DEVICES.
Newest Cute Icons that you never seen before :)
Two tone color clock with White and Pink/Yellow color, that change color on every minute.
Girly, Cute, Catchy and attractive in Custom layout for ALL devices theme.
Custom battery meter
Custom Signal Meter Lovely fonts for theme.
Eye pleasing color scheme used in theme.
Custom Indicators for BBM and Email etc.
Custom Message and Messenger notification and indicators.
very wallpaper friendly Semi-transparent menus and dialogues.
Very clean and responsive.
Very eye pleasing color scheme for menu and dialogues.
Both screen mode supported on 9850/60, 9810, 9800, and 9380.
Device Support
OS7/7.1 9981,9900, 9930, 9810, 9790, 9720, 9620, 9350/60/70/80, 9310/9315/9220.
------------------
OS6 9800, 9300, 9330, 9788, 9780, 9700 and 9650(With OS6 installed).
------------------
OS5 8350, 8520, 8530, 9300, 8900, 9630, 9650, 9700.