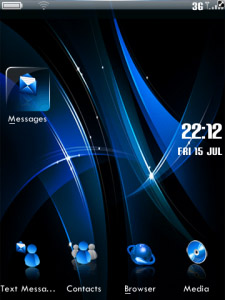 Tag:
Blue
Atrius
Overview :
Atrius v1.9.1 by Mobster Mobile Design ( US$3.99 )
File Size: 2064 KB
Required Device Software:
Smartphone: 4.6.0 or higher

Description:
Atrius is a simple theme that focuses more on functionality. Atrius doesn't use much memory and offers the same performance as the stock themes available on all devices (but with a more crisp and sexy look). If you are looking for a simple theme that allows for peek performance without bogging your device, this is the theme that will suit your interest.
Features include:
* 7 user-customizable icons with one additional icon for your favorite weather app
* Icons on the home screen include animations that are simple and aesthetically pleasing
* Wallpaper friendly
* Custom-made icons and graphics
* Available for all devices
* FREE UPDATES (paid versions only)
This update is for devices running 5.0 and 6.0 only. If you are using older software on your device, you will need to upgrade your OS to receive the latest updates.
SET ALL PERMISSIONS TO "ALLOW" TO ENSURE IT RUNS SMOOTHLY WITH YOUR APPS!
Visit us at http://mobstermobiledesign.com for all our themes.
Follow us on twitter @mobstermdesign for our latest themes and giveaways!