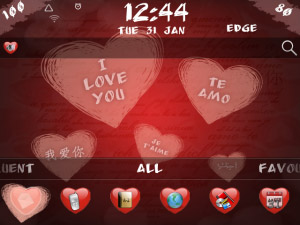 Tag:
Animated
Valentine
os7 theme
Overview :
Valentine Animated v2.0 - OS7 theme download
US$0.99 USD
Required Device Software:
Smartphone: 6.0.0 or higher

Description:
A lovely theme for a lovely person! SALE $0.99 until 14 Feb for all the lovers !
Valentine animated theme features a homescreen where you'll see 5 hearts appearing each for each with the text "I love you" in 5 different languages as you can see on the screenshots.
The theme is everywhere skinned with hearts and pure red passion!
The wallpaper isn't customizable.
Compatible with:
All the BlackBerry® Series O.S. 6.0 & 7.0 / 7.1
BlackBerry® Curve™ 9350/9360/9370/9380 7.0 / 7.1
BlackBerry® Bold™ 9790/9900/9930 7.0 / 7.1
BlackBerry® Torch™ 9810/9850/9860 7.0 / 7.1
**The Calling screens are the default one and you may encounter other bugs that will be fixed as soon as the Theme Studio 7 is released. **
The theme runs very smoothly on every BlackBerry device.
Follow us @bbfreaks for great Deals/Discounts/Giveaways - www.bb-freaks.com

more Valentine's Day resources: http://www.blackberryrc.com/tags.php?/Valentine/