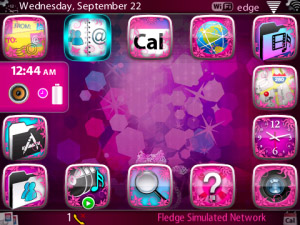 Tag:
pink
Preview
Glamour
Overview :
Pink Glamour Preview - blackberry theme (paid)
Required Device Software:
Smartphone: 4.6.0 or higher



Description:
Pink Glamour Preview premieres innovative technology that lets you interact with your BlackBerry® Banner. Each corner of your screen contains an interactive notification.
Disappearing icons uncover your favorite image on the wall-paper friendly background. Just place the cursor on the bottom banner and the animated icons move out of the home screen in radial fashion (see screen shots for details).

To move icons back into the home screen just move the cursor 'up' (from bottom banner) or press the 'escape' key.
Torch 9800 (Touch option) press and hold on bottom banner to move icons out of the screen without going into the Contacts or Calendar.
Install our free app Glimpse to get Facebook and other content directly on your wallpaper.
Free iGlimpse; http://appworld.blackberry.com/webstore/content/54764
Please be sure to REBOOT YOUR DEVICE after every download to minimize corruption.
Join us on Facebook; www.facebook.com/blackberrythemes
Love your BlackBerry®!