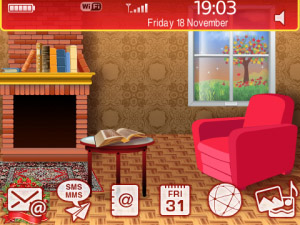 Tag:
xmas
Deck
Halls
Overview :
Deck The Halls v1.0.2 themes for blackberry
Required Device Software
Smartphone: 4.6.1 or higher

Description:
If you're decorating your home for the holiday season, why not decorate your BlackBerry®, too?
Deck the Halls Theme from Magmic brings the holiday decor to your BlackBerry wallpaper with a creative twist. As the days in December pass, this theme will gradually add decorations all over, transforming a normal room into a cozy den suited for the holiday season*. Keep a keen eye out to find all the changes! This theme comes with an icon package complete with a festive wreath to highlight your favourite apps. Download Deck the Halls, the perfect theme for the holiday season.
*OS6 and higher only. Changes are hourly for lower OS versions