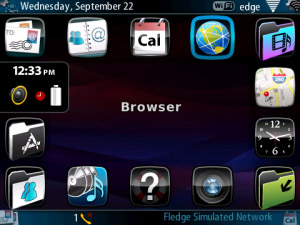 Tag:
Preview
iWave
Overview :
iWave Preview v1.2 for blackberry theme os4.6+

Required Device Software
4.6.0 or higher
Description
A sophisticated addition to our iWave line, "iWave Preview" premieres innovative technology that lets you interact with your BlackBerry® Banner. The once static notifications are now linked directly to the respective applications.
Got a new message? Just click on the bottom left of your home screen. Each corner of your screen contains an interactive notification: messages, clock, connections and calendar. We like to call it the 'Preview banner'.
That's not all! We've also made this theme friendlier to your favourite images. With the touch of your cursor, the animated icons move in and out of the home screen in radial fashion, leaving an unobstructed view of your new wallpaper-friendly home screen. So go ahead! Place that special image where you'll see it the most, now that we've got everything out of your way.
IMPORTANT: This Themes is NOT compatible with OS 6. If you have TROUBLE ACTIVATING the Theme please CONTACT SUPPORT before posting a review. We'll provide a link to download a Theme directly from our servers.
To view all our themes in the App World visit http://appworld.blackberry.com/webstore/vendor/3098
Love your BlackBerry®!