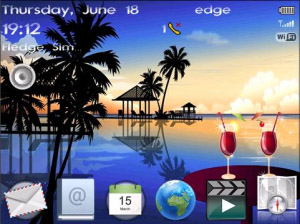 Tag:
Beach
Getaway
8900 theme
Overview :
The Beach Getaway BlackBerry Theme style is carefully selected by BlackberryRC.com, Hope you will like it. It is suitable for OS 4.6 or higher Devices.

Supported devices:
Blackberry 85xx, 89xx, 90xx, 91xx, 93xx, 95xx, 96xx, 97xx, 9800, 9810, 9860, 9900, 9930

Item Description:
Beach Getaway theme for BlackBerry® has a bottom dock with bouncy icons. If you want to get out of the cold, purchase Beach Getaway!
To activate your theme after your download: Click on Options, then Theme.