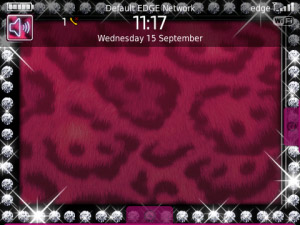 Tag:
pink
Overview :
Required Device Software
4.5.0 or higher

Description
Rawwr! Not for the shy and retiring! Work that 80's style with vibrant, seductive pink leopardy goodness!! Show your friends you're a foxy feline not to be messed with.
Features:
* Direct link to mobstar-cases.com - Love the theme? Now buy the case! Click the 'M star' icon on the Mobstar Slider!
* High Quality Animated Photo Frame
* Font is set as default and can be set by the user
* NEW Mobstar Slider adds more Icons (81xx, 83xx, 87xx and 88xx currently NOT supported)

INSTALL IN 2 EASY STEPS
1. Select Options from the Applications screen.
2. From the Options menu, scroll down to Theme and select (best results please restart phone).
How to add your photo:
1. In the media application, click Pictures.
2. Click My Pictures.
3. Highlight a picture.
4. Press the "BlackBerry" key.
5. Set as Wallpaper.
Due to connection errors with mobile providers we recommend using Wi-Fi when available.