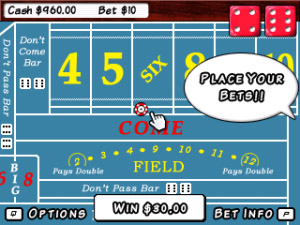 Tag:
bold
curve
torch
9900 games
Craps
Overview :
Win At Craps v1.1.0 for blackberry games
Model:
Blackberry 81XX Series (240*260) Pearl Devices Models: 8100, 8110, 8120, 8130/Blackberry 82XX Series (240*320) Pearl Flip Devices Models: 8200, 8220, 8230/Blackberry 8350i (320*240) Related Devices Model: 8500, 8520, 8530, 9300(Kepler), 9330/Blackberry 83XX Series (320*240) Curve Devices Models: 8300, 8310, 8320, 8330 / Blackberry 87XX Series (320*240) Devices Models: 8700c, 8700r, 8700f, 8700g, 8703e, 8707, 8707g, 8707v .etc /Blackberry 88XX Series (320*240) Devices Models: 8800, 8820, 8830 .etc /Blackberry 89XX Curve Series (480*360): 8900(Javelin), 8910(Atlas), 8930, 8950, 8980/Blackberry 90XX Bold (Onyx) Series (480*320) Devices Models: 9000, 9020(Onyx)/Blackberry 96XX Tour (Niagara) Series (480*360):9600, 9630, 9650(Tour2), 9700(Bold2), 9780, Dakota, Apollo /Blackberry Pearl 3G Series (360*400) Devices Models: 9100, 9105, 9670(Style)/Blackberry 99XX (OS 7.0) Series (640*480) Devices Models: 9900, 9930

Description
Roll your dice and be a seasoned shooter with Win@Craps.
Learn to play or perfect your Craps betting skill with this fully featured Casino style game. Craps is a dice game played in a long enclosed table, where the outcome of two dice can mean winning a fortune or losing it all. A Craps table features dozens of different bets and with you'll learn which to bet on and more importantly which to avoid!
- Realistic casino graphics and sounds.
- Features full range of table betting options with accurate rules and odds.
- Beginners tutorial take you through each stage of the game.
- In game expert hints, tips and strategies available all the time.
- Individual bet statistics and recommendations with tracking of game winnings