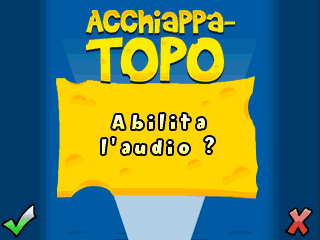 Tag:
8xxx games
Acchiappa-TO
Overview :
Acchiappa-TOPO for blackberry 8xxx games
Model:
Blackberry 8350i (320*240) Related Devices Model: 8500, 8520/Blackberry 83XX Series (320*240) Curve Devices Models: 8300, 8310, 8320, 8330 / Blackberry 87XX Series (320*240) Devices Models: 8700c, 8700r, 8700f, 8700g, 8703e, 8707, 8707g, 8707v .etc /Blackberry 88XX Series (320*240) Devices Models: 8800, 8820, 8830 .etc
Description:
Try to catch the mouse before he takes all the cheese. If you click on the cat at the bottom of the screen you can play a different game. A game in which you will have to trap the cat.