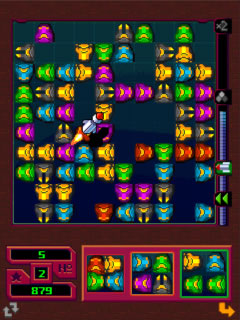 Tag:
8350i games
Spaceport
Overview :
SpacePort 8350i games
Model:
Blackberry 8350i (320*240) Related Devices Model: 8500, 8520/Blackberry 83XX Series (320*240) Curve Devices Models: 8300, 8310, 8320, 8330 / Blackberry 87XX Series (320*240) Devices Models: 8700c, 8700r, 8700f, 8700g, 8703e, 8707, 8707g, 8707v .etc /Blackberry 88XX Series (320*240) Devices Models: 8800, 8820, 8830 .etc
Description:
A great new puzzler "Spaceport" gives you the chance to take on the duties of the controller of a galactic spaceport. You should keep an eye on incoming ships and maintain order at the docking field which holds a limited number of vessels. You have to prevent the field from overflowing. Just match 3 ships of the same kind to send them into hyper-space.
The game contains 2 game modes. Survival mode can be played as long as there are moves possible. Story mode offers you several intriguing missions and gives a chance to save the Earth from the alien invaders.
T ( conversion key)
5 ( ok )
Game features:
2 game modes (Story and Survival);
9 original missions and full-blooded plot;
detailed tutorial;
2 levels of difficulty;
A variety of bonuses.