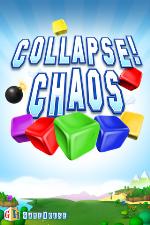 Tag:
pearl games
COLLAPSE
Chaos
Overview :
Collapse Chaos 82xx pearl games
Model:
Blackberry 82XX Series (240x320) Pearl Flip Devices Models: 8200, 8220, 8230
Description:
Collapse is the crazy game of screen tapping fun from the creative on-line games masters, GameHouse!Get your pulse racing as you strive to beat your last score by finding groups of similar blocks on the screen. But, don't take too long about it - more blocks fill up from the bottom of the screen and if you let any blocks get to the top...Collapse! it's all over!