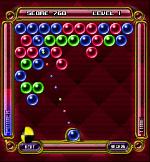 Tag:
Marble
Manic
9020 games
Overview :
free Marble Manic for 9020 bold games download

Description:
Lost your marbles? Gain a few more with Marble Manic, the most addictive marble shooting arcade game for your BlackBerry!
Marble Manic includes four game modes, special items, bonus rounds, an online high score system and much more to keep you entertained! Marble Manic is the ultimate stress-relief game in endless mode and playing modes that need fast reflexes and a sharp mind.
Model:
Blackberry 82XX Series (240x320) Pearl Flip Devices Models: 8200, 8220, 8230/Blackberry 8350i (320*240) Related Devices Model: 8500, 8520, 8530, 9300(Kepler)/Blackberry 89XX Curve Series (480*360): 8900(Javelin), 8910(Atlas), 8950/Blackberry 90XX Bold (Onyx) Series (480*320) Devices Models: 9000, 9020(Onyx)/Blackberry 96XX Tour (Niagara) Series (480*360):9600, 9630, 9650(Tour2), 9670, 9700(Bold2) /Blackberry 9800/Blackberry Pearl 3G Series (360*400) Devices Models: 9100, 9105