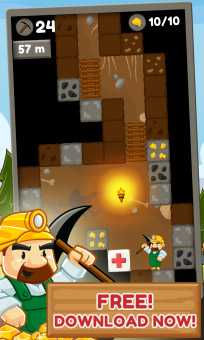 Tag:
BB10 games
Gem Mine
Overview :
Ready to explore the awesome world of mining? Ready to mine gems, gold or even diamonds? Ready to dig deeper into you mine with the help of explosives like dynamite?
Yes? Good! This gem mining game is perfect for your pocket!
What are you waiting for, start to dig and discover the underground world of this terraria-like piece of craft!
WARNING: THIS MINING GAME IS HIGHLY ADDICTIVE!
Please note: a craft feature is planned and soon to come!
With this, you will be able to dig even much deeper down into you mine and hunt for better gems and gold! Send us your feedback for further requests!
If you like mining games like Gem Miner, Pocket Mine, Robo Miner and Boulderdash or exploration games like Terraria, Motherload and Minecraft be sure to check this game out!
It's not as complex but still not less fun!
Supported Devices:
BlackBerry Classic
BlackBerry Passport
BlackBerry Q10
BlackBerry Q5
BlackBerry Z10
BlackBerry Z3
BlackBerry Z30
Porsche Design P9982
Porsche Design P9983