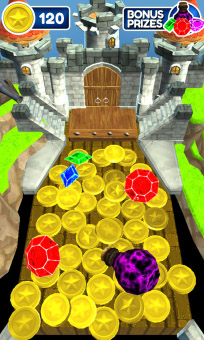 Tag:
Coin
Pusher
Overview :
Coin Pusher - Kingdom Dozer 1.0.0.1 for blackberry classic, passport games
Coin Pusher – Kingdom Dozer is a frenzy fun arcade coin dozer game (also known as coin pusher game). Download this FREE game now and have fun playing this coin dozer style game!
The rules are easy:
♦ Drop coins into the slot and start pushing the coins until they fall.
♦ Make sure the falling coins don't fall in the wrong hole!
♦ Keep pushing your coins into the royal treasure chest – this is good for the kingdom and gives you points!
♦ Can you unlock the carnival coin dozer? You have to push enough falling coins into the right position!
Save your kingdom before people go frenzy and help them with this carneval coin game! Push the coins into the slot and start playing now!
If you like coin dozer games like "Kingdom Coin Lucky Vegas Dozer", "Coins Dozer King - Free Prizes", "Dozer Frenzy - Coin Pusher Fun", "Coin Slots", "Coin Dozer - Free Prizes!" or "Kingdom Coins - Dozer of Coin", you will love this app for your device!
Supported Devices:
BlackBerry Classic
BlackBerry Passport
BlackBerry Q10
BlackBerry Q5
BlackBerry Z10
BlackBerry Z3
BlackBerry Z30
Porsche Design P9982
Porsche Design P9983