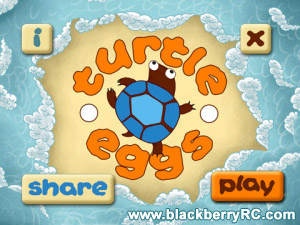 Tag:
curve
8520 games
9300 games
Turtle Eggs
Overview :
free Turtle Eggs v1.0.0 for blackberry 85xx,93xx games (320x240)
OS 5.0,6.0
size:1.26 MB
model: Curve 8520, Curve 8530, Curve 9300 3G, Curve 9330 3G

Description:
During long boring evenings we dream of hot happy days on seashore, with soft drinks holding BlackBerry and playing Turtle Eggs. Why Turtle Eggs? Because is a nice game with fantastic design that teleports you to the seaside where you have no problems, except how to pass all the 100 levels and be the king of this game.
So, it's high time to explain the rules and start to play Turtle Eggs.
On the screen you will see a turtle, eggs and holes. You have to roll the eggs into the hole with the help of the turtle. Try to be careful, while the turtle can move only one egg, and if the egg is rolled into a corner, it can't be removed from there by no means. Let's start the game, 100 levels are waiting for you!
Characteristics:
* splendid design;
** 100 levels;
*** summer atmosphere.
P. S. Don't be shy and let us know whether you like the application or not.
Feel free to contact Contlex Ventures team if you have some problems with the application and we will do our best to solve it. Thank you.
Enjoy your time with Contlex Ventures!