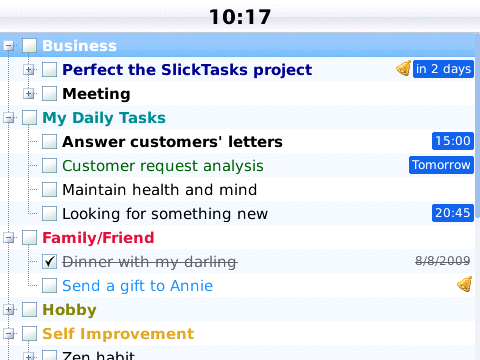 Tag:
SlickTasks
Overview :
free SlickTasks v2.0 - blackberry apps download
Description:
SlickTasks is a powerful task management application for BlackBerry. SlickTasks lets you easily organise your tasks and sub-tasks into a folder tree. You can set reminder for your tasks, so you never forget to complete the task again. With SlickTasks, you can stay focused and get things done. You can even create recurring tasks for your daily, weekly, monthly or yearly tasks.
Do you ever feel overwhelmed with so many different tasks in your life? Now, you can stay organized with SlickTasks.
Features:
Organise tasks, subtasks into tree-structure folders. Folders can be nested as complex as you want.
Add new task very fast with inline task entry feature. No another entry screen required.
Quick Expand/Collapse branches with Alt+Space or Left/Right trackball.
Set text color, style like Bold, Italic, Underline.
Set reminder with LED colors, vibration option of your choice.
Tasks can be sorted by due date/priority.
Easily customize your tasks with default reminder setting, default task style settings (by task level)
Set recurrence task. You can create task with recurring reminder. This makes SlickTasks a powerful reminder tool.
No limit! Create as many tasks and reminders as you want.
Synchronize from built-in Calendar and Tasks app.
Easily backup/restore the Task database.
===============================================
VERSION 2.0 FEATURES:
===============================================
SlickTasks version 2 includes many exciting new features and improvements. These are the highlights:
* Icon Indicator - SlickTasks displays the number of past due tasks on home screen to visually remind you that you have some tasks unfinished.
* Category & Filter - You can organize tasks into categories and Filter function will help you focus on specific groups of tasks.
* Task Grouping - The tasks on the To-Do-List can be grouped.
* Today View & Weekly Planner View - Two special grouping modes can be accessed by shortcuts 'T' and 'W'.
* Project - Tasks with Project Setting have the percent completion status auto-calculated.
* Shortcuts - Use SlickTasks more effectively with many new shortcuts (F: Filter, G: Group By, T: ToDay, W: Weekly Planner, Q: Category, D: Edit Due Date, Alt+I : Collapse All)
* Search - Search function is improved.
* You can easily add new tasks in To-Do-List View Mode
* Remind Me Later function : You can specify the snooze time.
* Storm users:
Quickly switching between To-Do View/Outline View by
performing a horizontal swipe
Click on the Filter button at the Top-Right Corner to perform Filtering.
* And many more
Note: Version 2.0 of SlickTasks requires you to purchase an upgrade if you have purchased a license for SlickTasks 1.x.
===============================================
* IMPORTANT NOTE: Remember to Backup your Task Database to Memory Card before updating your BlackBerry OS Software. To backup, open the menu -> choose 'Backup/Restore'

Minimum Requirements:
Standard Edition
Display Dimensions
240x240, 240x260, 240x320, 320x240, 360x480, 480x320, 480x360
Operating System
4.6, 4.7 Non-Touch, 5.0 Non-Touch, 6.0 Non-Touch
Trial.
Model:
Blackberry 72XX Series (240*160) Devices Models: 7200, 7210, 7230, 7250, 7270, 7280, 7290, 7510, 7520, 6510/Blackberry 71XX Series (240*260) Devices Models: 7100, 7110t, 7105t, 7100r, 7100v, 7100g, 7100x, 7100i, 7130e, 7130c, 7130g, 7130v/Blackberry 81XX Series (240*260) Pearl Devices Models: 8100, 8110, 8120, 8130/Blackberry 82XX Series (240*320) Pearl Flip Devices Models: 8200, 8220, 8230/Blackberry 8350i (320*240) Related Devices Model: 8500, 8520, 8530, 9300(Kepler)/Blackberry 83XX Series (320*240) Curve Devices Models: 8300, 8310, 8320, 8330 / Blackberry 87XX Series (320*240) Devices Models: 8700c, 8700r, 8700f, 8700g, 8703e, 8707, 8707g, 8707v .etc /Blackberry 88XX Series (320*240) Devices Models: 8800, 8820, 8830 .etc /Blackberry 89XX Curve Series (480*360): 8900(Javelin), 8910(Atlas), 8950, 8980/Blackberry 90XX Bold (Onyx) Series (480*320) Devices Models: 9000, 9020(Onyx)/Blackberry 96XX Tour (Niagara) Series (480*360):9600, 9630, 9650(Tour2), 9670, 9700(Bold2), 9780 /Blackberry 95XX Storm Series (360*480):9500, 9510, 9520, 9530, 9550(Storm2), 9800(Torch)/Blackberry Pearl 3G Series (360*400) Devices Models: 9100, 9105