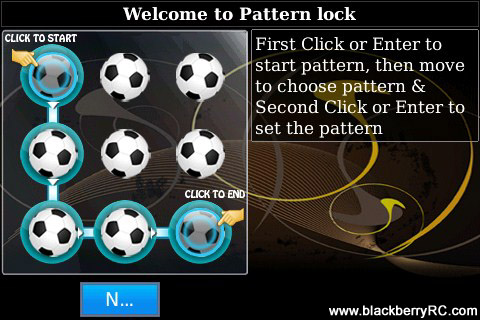 Tag:
PatternLock
Overview :
free PatternLock v2.0.47 for blackberry apps
OS 5.0, 6.0, 7.0
Model:
Curve 8520, Curve 8530, Curve 8900, Curve 8910, Curve 8980, Bold 9000, Curve 9300 3G, Curve 9330 3G, Tour 9630, Bold 9650, Style 9670, Bold 9700, Bold 9780, Bold 9788, Curve 9350, Curve 9360, Curve 9370, Storm 9500/9530, Storm2 9550/9520, Torch 9850/9860, Torch 9800, Torch 2 9810, Bold 9900/9930

Description:
PatternLock offers a new and fun way for you to lock your touchscreen BlackBerry®. Before using PatternLock, you define your lock pattern. The next time you see the lock screen, you trace your finger in the pattern you drew before and your device will unlock. Any other pattern and in any other order will not unlock the device. The full version of PatternLock can lock individual applications, the call screen, and the whole device. This is the most feature rich lock application available today with options that range from notification icons, integration with weather apps, security features (such as password protecting your options), and tons of customization options.
The Lite version only offers three options:
- Choose your pattern
- Autolock on startup
- Autolock on device inactivity
Purchase the full version to get the following features:
- Many more autolock options such as disabling autolock when certain applications are running
- Lock individual applications, call screen or the entire device
- Disable autolock when in predefined locations
- Backup/Restore options to encrypted file
- Custom background image, and tons of customization options for the look of the lock screen
- Theme-able lock screen using PatternLock .pltheme files
- Email, SMS & MMS, BBM, and missed call notifications
- Emergency call support
- Assign to hardware lock key
- Show weather info from BerryWeather (BeWeather) 2.2+
- Lock out the device if the incorrect pattern is entered a maximum times. Completely customizable.
- The funnest, most customizable way to lock your touchscreen BlackBerry!
DISCLAIMER: REMEMBER YOUR PATTERN! To use many PatternLock features, you must disable the built in BlackBerry® automatic password lock. For maximum security, you should use the built in BlackBerry® password lock.
Check out Tafasa's other great apps: PatternLock, Reversi, LaunchPad, Parking Lot, Connect Four, Bubble Burst, Doodle, CodeBreaker, WordSearch, Hangman, Memory, Griddler