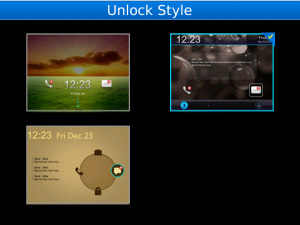 Tag:
MMMOOO
9810 apps
Unlock
Overview :
Unlock Pro v1.1.0 for 480x640 OS 7.0 apps
size: 1.84 MB
model: Torch 2 9810
Description:
MMMOOO killer app is here and FREE! With Unlock Pro, you do not need any other unlock apps! That is what are you looking for!
★★Promotion:
Free now and forever !! If need to unlock full version and try another 2 gorgeous unlock styles - slide unlock and touch unlock, please leave your encouraging comments at App World and then kindly email us your phone PIN and "Unlock Pro" at the mail subject. We will help you to register!!
The most professional unlock app at BAW! Include gorgeous unlock style - pull down unlock, it is with the leading high quality UI, clean layout, when you press on the icon of missed call and message, it will show you the specific content, which is really friendly! What is more, it will never slow down your system. Absolutely a must have app at your BlackBerry!
Changelog in v1.1:
1. Fixed the bug in activating Unlock Pro in landscape and vertical;
2. Fixed the display bugs in 9810;
3. The operation is more friendly;
Features:
1. 3 unique unlock style, all are really cool;
2. All elements are high quality;
3. Very easy to operate and friendly UI.
Guarantee satisfaction:
If you find a bug or have a feedback, kindly write email to us, we can assist you well or provide revision asap, because we could not reply App World Reviews. Let's make a great app together! :)



Come on, download this apps for your phone.