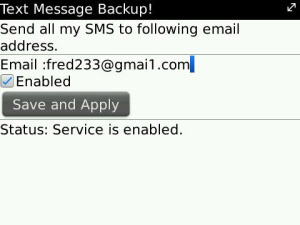 Tag:
Text
Message
Backup
Overview :
Text Message Backup v3.0.0 for bb os4.2+ apps
Required Device Software
4.2.0 or higher

Supported devices:
Pearl 8100, Pearl 8110, Pearl 8120, Pearl 8130, Pearl Flip 8220, Pearl Flip 8230, Pearl 9100 3G, Pearl 9105 3G, Curve 8300, Curve 8310, Curve 8320, Curve 8330, Curve 8350i, Curve 8520, Curve 8530, 8700, 8707, 8800, 8820, 8830, Curve 8900, Curve 8910, Curve 8980, Bold 9000, Curve 9300 3G, Curve 9330 3G, Tour 9630, Bold 9650, Style 9670, Bold 9700, Bold 9780, Bold 9788, Curve 9350, Curve 9360, Curve 9370, Storm 9500/9530, Storm2 9550/9520, Torch 9850/9860, Torch 9800, Torch 2 9810, Bold 9900/9930
Description:
** New in Version 3.0 **
Works with new OS 7 devices including Bold 9900, 9930, Torch 9810, 9850 and 9860
-- Please leave a positive review for free future updates.
** Disclaimer **
This app has been tested and we believe that it works on all BlackBerry® phones. If it fails to work on your phone, please contact us on support@valueapps.mobi before you leave a review.
** 100 % money back guarantee via PayPal direct **
Do you use a huge email in-box? All of us do these days. "Text Message Backup" will forward all your incoming Text/SMS messages to your email in-box. You will never lose a text message even if you loose your phone. All messages landing in your phone will be forwarded to an email address of your choice.
In case the app is not working for you try following Permissions solution or write to us on support@valueapps.mobi . Your comments in the review area will not give us your email address and we will not be able to get back to you to solve your problem. Only way we can solve your problem is through support@valueapps.mobi .
Prerequisites:
Following is an obvious set of pre-requisites to run this app:
* A running GSM connection and SIM card inserted to receive text messages.
* A working data connection and BlackBerry® services for sending emails
* Permissions granted to the app as a trusted app that can receive SMS and send Emails.
Permissions:
In case your app doesn't run after installation, please go to Options--Applications-- (Select Text Message Backup) -- Press Menu -- Edit Permissions and allow all the type of permissions. Now the app should start without any trouble.
** Change History **
-- New in Version 3.0 --
Works on OS 7 based devices including Bold 9900, 9930, Torch 9810, 9850 and 9860
-- New in Version 2.0 --
Now backup your outgoing Text Message(SMS) to your email inbox as well.
-- New in Version 1.0 --
First release