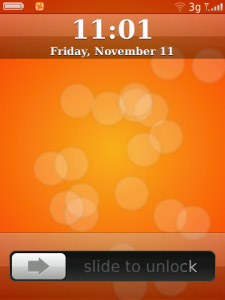 Tag:
Slide Lock
9850 apps
Overview :
Slide Lock Pro v1.4.0 for os6.0, 7.0 apps
size: 532 KB
model: Torch 9850/9860, Torch 9800, Curve 9380, Bold 9790, Torch 2 9810, Bold 9900/9930, 9981
Description:
Lock and unlock your BlackBerry® with style. Easy. Smooth. Elegant. Eliminates the cases of accidental screen or key presses! No more unwanted phone calls or battery drain because of WiFi or GPS turned on by mistake!
100% money back if you are not happy with our product (PayPal account required). Upgrades are always for free
If you want to try Slide Lock before buying it, please check its Lite version which comes with a fully functional FREE TRIAL of Slide Lock Pro
http://appworld.blackberry.com/webstore/content/64707
See Slide Lock in action by watching its DEMO VIDEO at
http://www.youtube.com/watch?v=51jhYQYM48M
Features:
- Works directly with the native BlackBerry® lock button
- Automatically locks when your backlight goes off or after a configurable delay
- Unlock is as easy as swiping with your finger
- Zero initial configuration
- Starts automatically when your BlackBerry® is powered on and runs silently in the background. However, you can easily turn it off at any time.
- Configurable background. Use one of the backgrounds coming with the application or select a picture from your device memory / SD card.
- Configurable sound effects
- Customizable widgets: clock, notifications (new emails, SMS, BBM etc.), battery level and signal strength.
- Option to disable auto locking on certain applications (either native or third-party). Very convenient for browsers, maps, readers and others.
- Option to lock during phone calls
- Works for non-touch screen devices as well (just use your trackpad)
If you like Slide Lock, please post a review / rating about it. We do appreciate your support!
For issues, comments or suggestions, please contact us at support@bulbera.com. Your feedback means a lot to us!
If you want to stay in touch with us, please use the "Newsletter" option in the menu of Slide Lock or like our Facebook page at:
http://facebook.com/bulbera
We would also like to invite you to try our other products. Some of them that you will love are: Passcode Lock, Easy Lock, Alarm Clock, World Clock, Units, CheckLists, Menu WiFi. You can find them in BlackBerry® AppWorld by searching on vendor name "Bulbera".

Come on, download this apps for your phone.