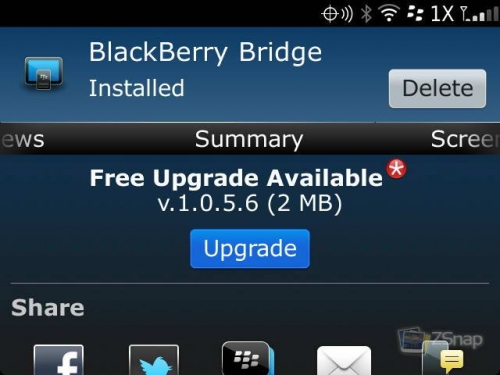 Tag:
Bridge
9650 apps
97xx apps
Overview :
BlackBerry Bridge v1.0.5.6 for blackberry 9650,97xx apps
Required Device Software
6.0.0
Supported devices:
Blackberry 89xx, 90xx, 91xx, 93xx, 95xx, 96xx, 9700, 9780
Description:
Pair your BlackBerry® PlayBook™ tablet with a BlackBerry® smartphone to get even more features.
BlackBerry® Bridge is an app you can download to your smartphone to get access to your email, calendar, contacts, memo pad, tasks and BBM—all on the large tablet display. Depending on your wireless service provider you can even browse the web using your existing BlackBerry smartphone's data plan.
For all technical support with BlackBerry Bridge, please visit http://us.blackberry.com/support/playbook-support/apps.jsp#app-bridge
For billing issues and technical support options related to App World only, please visit http://www.blackberry.com/support/appworld.
Direct support is unavailable through the "Contact Support" button.