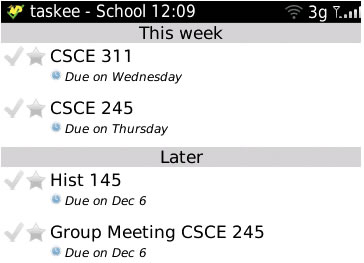 Tag:
Taskee
Producteev
Overview :
Taskee for Producteev 82,89,90 apps

Taskee is a BlackBerry client for the task management application Producteev.
In order to use the application an account with Producteev is required. You can sign up for one through Taskee.
The application synchronizes all dashboards and tasks and caches them for access when network connectivity is not available. Existing tasks can be edited and new tasks added. Any changes are synchronized with Producteev immediately or when a connection is available next.
If you have any questions or experience technical problems, please contact us at feedback [at] moonmonkeylabs [dot] com before leaving a review. We want to help you but cannot respond to any questions or technical problems posted through reviews.
Features:
Overhauled UI
Improved networking and syncing
Added labels
Added notes
Added support for repeating tasks
Made by: Moon Monkey Labs

Model:
Blackberry 82XX Series (240*320) Pearl Flip Devices Models: 8200, 8220, 8230/Blackberry 8350i (320*240) Related Devices Model: 8500, 8520, 8530/Blackberry 89XX Curve Series (480*360): 8900(Javelin), 8910(Atlas), 8930, 8950, 8980/Blackberry 90XX Bold (Onyx) Series (480*320) Devices Models: 9000, 9020(Onyx)