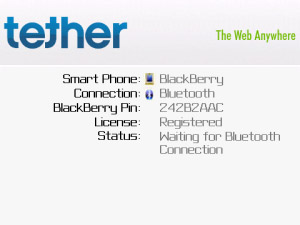 Tag:
9800 apps
9900 apps
9780 apps
Tether
Overview :
Free Tether v1.4.4.6 for BB os4.5+ applications
Required Device Software:
4.5.0 or higher
Model:
Blackberry 81XX Series (240*260) Pearl Devices Models: 8100, 8110, 8120, 8130/Blackberry 82XX Series (240*320) Pearl Flip Devices Models: 8200, 8220, 8230/Blackberry 8350i (320*240) Related Devices Model: 8500, 8520, 8530, 9300(Kepler), 9330/Blackberry 83XX Series (320*240) Curve Devices Models: 8300, 8310, 8320, 8330 / Blackberry 87XX Series (320*240) Devices Models: 8700c, 8700r, 8700f, 8700g, 8703e, 8707, 8707g, 8707v .etc /Blackberry 88XX Series (320*240) Devices Models: 8800, 8820, 8830 .etc /Blackberry 89XX Curve Series (480*360): 8900(Javelin), 8910(Atlas), 8930, 8950, 8980/Blackberry 90XX Bold (Onyx) Series (480*320) Devices Models: 9000, 9020(Onyx)/Blackberry 96XX Tour (Niagara) Series (480*360):9600, 9630, 9650(Tour2), 9700(Bold2), 9780, Dakota, Apollo /Blackberry 95XX Storm Series (360*480):9500, 9510, 9520, 9530, 9550(Storm2), 9570(Storm3), 9800(Torch), Torch2/Blackberry Pearl 3G Series (360*400) Devices Models: 9100, 9105, 9670(Style)/Blackberry 99XX (OS 7.0) Series (640*480) Devices Models: 9900, 9930
Description:
Tether is an application that allows your PC to take advantage of your BlackBerry® smartphone's data plan, providing you access to the Internet on your laptop anywhere there is cellular coverage from your BlackBerry® smartphone.
Tether is easy to install, easy to use, works practically anywhere, and is very cost-effective.
We guarantee that if you hate being without internet or are frustrated over fees for internet service, then Tether is your solution. Eventually it will become an application that you cannot go without.
And - don't forget to leave a review for us!
-------------------------
Download Instructions
-------------------------
1. Download and install Tether to your PC by visiting the URL on your computer:
* Windows Version:
http://tether.com/t/setupdrv.exe
* Mac Version:
http://tether.com/t/Tether.dmg
2. Download Tether on your BlackBerry® by opening the following URL with your BlackBerry® device, from the browser: http://tether.com/t/tether.jad
3. Please disable all wireless network connections and run our software Tether on both the PC and the BlackBerry® and follow the onscreen instructions.
If you are seeing an error for "No Available Port", this means you need to set the correct APN and make sure all permissions have been granted to Tether on your BlackBerry® device. Please note, some carriers may charge extra for using their APN. Visit: https://www.webmessenger.com/support/APN.jsp
If you want to connect via Bluetooth you will need to pair your device. Follow these instructions to pair your device:
* Windows Version:
 (don't follow task 6)
http://www.blackberry.com/btsc/viewContent.do?externalId=KB04132
* Mac Version:

 http://bit.ly/6YPPyh