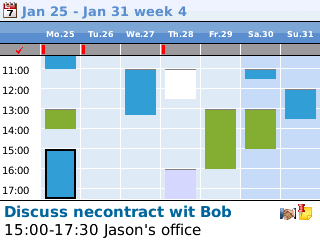 Tag:
Calendar
SBSH
Overview :
SBSH Calendar Pro v1.2
Description:
Turn your BlackBerry into a powerful time management system. Enjoy innovative and compelling tools far beyond the default BlackBerry tools that will help you manage your busy schedule. Advanced calendar views, dedicated tasks manager, powerful recurring items engine, category coloring and icons and much more!
Features:
•--------------------------
•Daily View
•--------------------------
•Today's events all on your screen
•Joint display for both appointments and tasks
•View alarm, private, note and recurring status icons for each of your items
•View category icons and colors for each item according to the selected categories
•Daily timeline display at the top of the screen. Timeline colored based on item's status (e.g. busy, tentative)
•View database color codes when using SBSH Calendar special support for working with multiple databases
•Customize text color based on item's status; Item display layout and much more!
•--------------------------
•Weekly View
•--------------------------
•Full week worth of agenda displayed in a single screen!
•Vertical bars layout showing your week's agenda. Each colored box represents an appointment. Empty grid indicate free hours where you can schedule new meetings
•Top gray bar include red-blocks to represent your daily tasks. Each block indicate a task due for this specific date, giving you a joint graphical preview of your appointments and tasks
•The Weekly View graphical representation helps you easily recognize free time slots in your busy agenda and schedule new appointments during these time slots
•Each colored block is colored based on appointment's status: busy, tentative, free or out of office
•Bottom Preview Pane displaying more details about the currently highlighted appointment box
•--------------------------
•Monthly View
•--------------------------
•Full month worth of agenda displayed in one screen!
•Optimized display that brings maximum information to your BlackBerry limited screen real estate
•Daily timelines with status colors showing your appointments for each day!
•Red boxes placed within each of the daily rectangles to indicate tasks due for each specific day
•Use BlackBerry joystick to easily move the highlight between the different days. Create new appointments and tasks for the currently highlighted day
•Bottom Quick View displays an overview of all appointments and tasks scheduled for the currently highlighted day
•Click any day to quickly load the selected day at the Daily view
•--------------------------
•Tasks View
•--------------------------
•Robust task manager tool embedded within SBSH Calendar! Manage all of your tasks in one solution using advanced tools designed especially for professional task management!
•Easily create new or complete/activate and edit your existing tasks from the Tasks view
•View status icons, category icons and priority icons for each task in the list
•Use the top Search Bar to easily search and locate specific tasks in the tasks list
•--------------------------
•Category Icons and Colors
•--------------------------
•Assign icons and colors to each of your categories. Category icons and colors are then used to enhance your agenda display throughout the different SBSH Calendar views
•Create edit and delete categories via the Category Manager in SBSH Calendar settings
•Choose category icons from a large icon store including professional category icons shipped as part of SBSH Calendar installation
•--------------------------
•Robust Information Manager Tool
•--------------------------
•Behind the great design and colored icons, SBSH Calendar offers the most powerful personal information manager up-to-date for the professional user
•Powerful recurring items engine that helps you manage and create recurring appointments of any type!
•Manage appointments and tasks from multiple database sources using and color-code items by their different source database
•Full robust task manager built-in as part of the same solution!
•View complete list of all attendees invited to meetings as part of your appointment display
•SBSH Calendar is designed to fulfill all time management needs of the busy professional!
•--------------------------
•BlackBerry Tailored
•--------------------------
•SBSH Calendar was designed especially for use with BlackBerry devices, taking advantage of the BlackBerry unique hardware features and getting the most from your BlackBerry device
•Support all BlackBerry non-touch devices. Supporting all available resolution and orientation screens
•Special QWERTY keyboard shortcuts. Use shortcuts to easily navigate between different calendar views
•Optimized views display for use in both portrait and landscape screens

Minimum Requirements:
•BlackBerry device running OS 4.5 or higher. Designed for non-touch screens.
Display Dimensions
160x160, 240x160, 240x240, 240x260, 240x320, 320x240, 360x480, 480x320, 480x360
Operating System
4.5, 4.6, 4.7 Non-Touch, 4.7 Touch Screen, 5.0 Non-Touch, 5.0 Touch Screen
It's a trial version.
Model:
Blackberry 81XX Series (240*260) Pearl Devices Models: 8100, 8110, 8120, 8130/Blackberry 82XX Series (240*320) Pearl Flip Devices Models: 8200, 8220, 8230/Blackberry 8350i (320*240) Related Devices Model: 8500, 8520, 8530, 9300(Kepler)/Blackberry 83XX Series (320*240) Curve Devices Models: 8300, 8310, 8320, 8330 / Blackberry 87XX Series (320*240) Devices Models: 8700c, 8700r, 8700f, 8700g, 8703e, 8707, 8707g, 8707v .etc /Blackberry 88XX Series (320*240) Devices Models: 8800, 8820, 8830 .etc /Blackberry 89XX Curve Series (480*360): 8900(Javelin), 8910(Atlas), 8950, 8980/Blackberry 90XX Bold (Onyx) Series (480*320) Devices Models: 9000, 9020(Onyx)/Blackberry 96XX Tour (Niagara) Series (480*360):9600, 9630, 9650(Tour2), 9670, 9700(Bold2), 9780 /Blackberry 95XX Storm Series (360*480):9500, 9510, 9520, 9530, 9550(Storm2), 9800(Torch)/Blackberry Pearl 3G Series (360*400) Devices Models: 9100, 9105