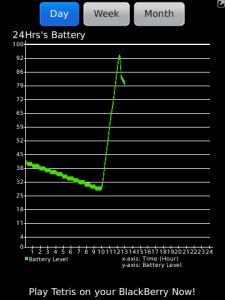 Tag:
Watch
Battery
Overview :
free Battery Watch v1.7.22 for blackberry apps download
Description:
Get a quick overview on your BlackBerry® device s battery state.
Features:
Tracks battery status over time - Line chart visualization of battery state by day, week, month.
Integration into native BlackBerry® applications - Battery level indicator icon and battery state (full charged, charging, unplugged).
Running out of battery warnings - Adjustable warning level and notifications.
Battery Info Shown:
Battery Level
Battery Removable
Battery Status
Battery Temperature (Celsius and Fahrenheit visualization support)
Battery Voltage
Device Name
Device PIN
Model:
Blackberry 82XX Series (240*320) Pearl Flip Devices Models: 8200, 8220, 8230/Blackberry 8350i (320*240) Related Devices Model: 8500, 8520, 8530, 9300(Kepler), 9330/Blackberry 83XX Series (320*240) Curve Devices Models: 8300, 8310, 8320, 8330 / Blackberry 87XX Series (320*240) Devices Models: 8700c, 8700r, 8700f, 8700g, 8703e, 8707, 8707g, 8707v .etc /Blackberry 88XX Series (320*240) Devices Models: 8800, 8820, 8830 .etc /Blackberry 89XX Curve Series (480*360): 8900(Javelin), 8910(Atlas), 8930, 8950, 8980/Blackberry 90XX Bold (Onyx) Series (480*320) Devices Models: 9000, 9020(Onyx)/Blackberry 96XX Tour (Niagara) Series (480*360):9600, 9630, 9650(Tour2), 9700(Bold2), 9780, Dakota, Apollo /Blackberry 95XX Storm Series (360*480):9500, 9510, 9520, 9530, 9550(Storm2), 9570(Storm3), 9800(Torch), Torch2/Blackberry Pearl 3G Series (360*400) Devices Models: 9100, 9105, 9670(Style)