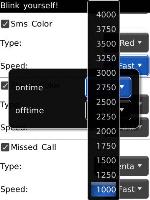 Tag:
9700 apps
Blink
Overview :
Blink 5.03 for blackberry free applications
Model:
Blackberry 72XX Series (240*160) Devices Models: 7200, 7210, 7230, 7250, 7270, 7280, 7290, 7510, 7520, 6510/Blackberry 71XX Series (240*260) Devices Models: 7100, 7110t, 7105t, 7100r, 7100v, 7100g, 7100x, 7100i, 7130e, 7130c, 7130g, 7130v/Blackberry 81XX Series (240*260) Pearl Devices Models: 8100, 8110, 8120, 8130/Blackberry 82XX Series (240x320) Pearl Flip Devices Models: 8200, 8220, 8230/Blackberry 8350i (320*240) Series: 8350i, 8500, 8520/ Blackberry 83XX Series (320*240) Curve Devices Models: 8300, 8310, 8320, 8330/Blackberry 87XX Series (320*240) Devices Models: 8700c, 8700r, 8700f, 8700g, 8703e, 8707, 8707g, 8707v .etc /Blackberry 88XX Series (320*240) Devices Models: 8800, 8820, 8830 .etc /Blackberry 89XX Curve Series (480*360): 8900(Javelin), 8910(Atlas)/Blackberry 90XX Bold (Onyx) Series (480*320) Devices Models: 9000, 9020(Onyx)/Blackberry 95XX Storm Series (360*480): 9500, 9510, 9520, 9530, 9550(Storm2)/Blackberry 96XX Tour (Niagara) Series (480*360): 9600, 9630 Niagara, 9700
Description:
Blink let you customize your system and more LED alerts ( Multi - alerts system ), blink colors to shine in night, and reset unwanted LED blink. Check feature list below to know more.
==========Option============
Blink Duration : set a duration for an alert blink to get more battery life. (though LED uses very little battery)
Advanced: set a on and off time for advanced frequency setting.
Battery Line: set a line for low battery alert
Memory Line: set a line for low memory alert
========== Tips ==============
You can choose the colors (seven colors and Disco mode) and the frequency ( set advanced in Option ) you like to create a romantic atmosphere. ( Use Color Test to keep blinking )
You can choose Disco colors and Always On to make your BlackBerry shine diffrent colors.
You can choose White color and Always On to make you BlackBerry a led flashlight which save battery a lot than other ways.
Use Reset LED in menu to stop any LED light if you came across annoying / unexpected blinking.
You can press any key to stop alerts for Email, SMS&MMS,Phone,Missed calls. But you have to use Reset LED tool to stop alerts for low battery or memory.
=======Battery and Memory Alert======
BlackBerry will turn off radio when battery is low.
BlackBerry will automatically delete messages and phone logs when out of memory.
So it's important to let Blink remind you charge the battery and reboot your device.
Set battery and memory alert lines in Option
IMPORTANT!!! Unlike other alerts, You need to stop battery and memory alerts with Reset LED tool in menu ONLY.( for there are no ringtones or vibrations, in case you miss the alerts)
========== Notice ============
Make sure enable LED in option if you want to get alerts in Bedside mode.
For Storm users, please disable compatibility mode in your system option - Advanced Options - Applications - Blink , to disable the keyboard on screen and enable landscape screen .
For BBM alert, there might be red led before the color you choose if you have 4.6OS or below. For more info, contact technical support. BBM alert costs a little more battery than other alerts.
=========================
5 days free trial!
Have fun!
Features:
* New! Multi-Alerts system
* Customize your
* -New Email LED color
* -New BBM LED color
* -New PIN LED color
* -New SMS&MMS LED color
* -Missed Call LED color
* -New Phone Call LED color
* -Call connected alert
* -Low Battery alert
* -Low Memory alert
* Colors and Frequency
* -9x2 colors choices
* -Dim color mode
* -7 frequency choices
* -Always On / flashlight Mode
* Menu Tools for
* -Test Color
* -Disco LED light
* -White LED flashlight
* -Reset LED
* Options
* -Blink duration option for battery saving
* -Advanced frequency option for a certain blink
* -Battery alert line
* -Memory alert line

Minimum Requirements:
* BlackBerry OS4.2 or above(for Storm, set compatibility mode as disabled)

Display Dimensions
240x260, 240x320, 320x240, 360x480, 480x320, 480x360
Operating System
4.2, 4.3, 4.5, 4.6, 4.7 Non-Touch, 4.7 Touch Screen, 5.0 Non-Touch, 5.0 Touch Screen

Code:41310