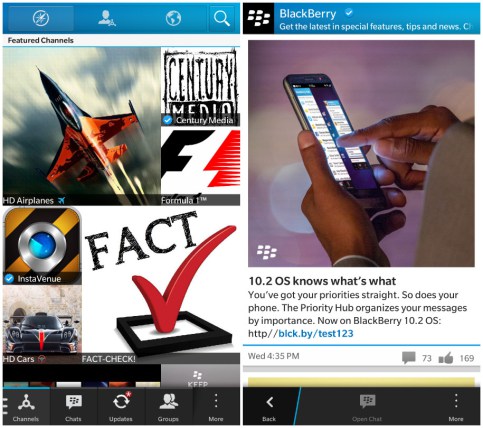 Open BBM and tap the icon in the bottom-left corner of your screen
Select Channels followed by tapping the 3 dot icon in the bottom-right of your screen
Select Create Channel and provide the following required information:
* Channel display picture
* Channel name
* Channel category

In addition to the required fields, complete the optional fields if desired.
Tap Save
After entering your channel details, make sure you customize your channel settings. To access these settings while viewing a channel you created, tap the 3 dot icon in the bottom-right of your screen and select Channel Settings. You'll be able to customize the following options:
* Allow BBM Chats with You – Optionally allow your subscribers to start a BBM chat with you, even if they're not in your contact list
* Chat Hours – If Allow BBM Chats with You is enabled, use this option to specify when you are available to chat
* Allow Comments on Post – Optionally prevent subscribers from leaving comments on posts in your channel
* Approve Comments – If enabled, comments are allowed but must be approved using the BBM Channels Manager website
* Show Channel in Search – Optionally prevent others from finding your channel using the search feature
* Show Channel Activity in Updates – If enabled, updates applicable to this channel will appear in your BBM updates listing
* Congratulations, you've created a channel! Now all that's left to do is invite your BBM contacts and share your channel PIN and Barcode. To find your channel PIN and Barcode, just click on your channel's current display picture.