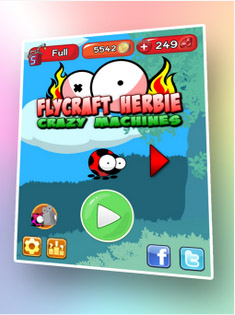 Tag:
FlyCraft
Herbie
Overview :
FlyCraft Herbie: Crazy Machines blackberry game
Supported Devices:
BlackBerry Q10
BlackBerry Q5
BlackBerry Z10
BlackBerry Z3
BlackBerry Z30
Porsche Design P9982
Welcome to another adventure of our hero from Flycraft, Herbie, the coolest male ladybug in the forest!
Help little Herbie fly his crazy flying machines through the forest without running into the bamboo trees and crashing.
Also fly with Mollie, Herbie's girlfriend and pick up even more bonuses!
This simple game will challenge your reflexes, response speed and your flying technique!
* Featuring the hero from the award winning game FlyCraft
* Share your scores on Facebook, Twitter, etc
* Sweet graphics
* Collect red life gems, and Drachma coins
* Unlock various crazy flying contraptions
* Gamepad support