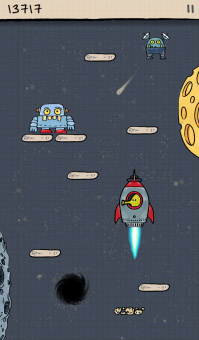 Tag:
Doodle Jump
Overview :
"Doodle Jump" the game extremely with graffiti styly already login the blackberry world, priced at $0.99, support Z10 Q10 Q5, a variety of game style can be chose, is the first choice for killing time.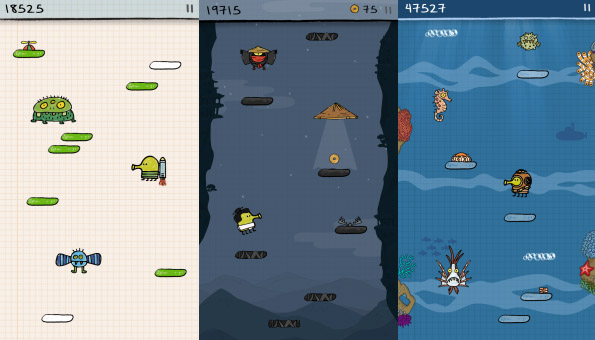 Version: 1.0.0.1
File Size: 24 MB
Required: BB10 Smartphone OS 10.0.0.0 or higher
Model:
Blackberry 10 Devices: Blackberry Dev Alpha, Blackberry Z10, Blackberry A10, Blackberry Q10, Blackberry Q5
Description:
See for yourself why Touch Arcade called Doodle Jump "possibly the best (mobile) game ever created" and Macworld called it "a perfect micro-game, insanely addictive, and deliciously replayable."

How high can you jump?
Journey up a sheet of graph paper, perpetually jumping from one platform to the next, picking up jet packs, avoiding black holes, and blasting baddies with nose balls along the way. Laugh with delight as you blow past other players' actual score markers scribbled in the margins. And be warned: this game is insanely addictive!

Features:
- Many fantastical worlds to play in - Space, Jungle, Soccer, Underwater, Snow, Halloween, Ice, Easter, and now NINJA!!
- Awesome power-ups to pick-up (JET PACKs, PROPELLER HATS, ROCKETS, trampolines...)
- Trippy obstacles to avoid (UFOs, black holes, and many, many monstrous monsters)
- Mad platforms to jump on (Broken, moving, disappearing, shifting, EXPLODING…)
- Global leaderboards, fun achievements! Beat your friends' scores!
How to play:
Tilt to move left or right, tap the screen to shoot.