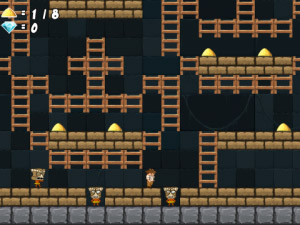 Tag:
Legend
LodeRunner
Overview :
LodeRunner: the Legend v1.0.1 games for blackberry smartphone
File Size: 4009 KB
Required Device Software:
Smartphone: 4.6.0 or higher
model: 8220, 8330, 8350, 8520, 8900, 8980, 9000, 9100, 9105, 9300, 9330, 9630, 9650, 9700, 9780, 9788

Description:
Lode Runner: the Legend. It is the revival of the well-known old-school game.
This time famous Runner is going to the underground in search of treasures of the ancient civilization. On his way he will meet lots of enemies who won't give away their gold and jewels. Only resourcefulness and ingenuity can help Runner to stay alive. He should collect treasures if he wants to get out but for the next steps to the surface he should pay a part of his gold.
The game consists of lots interesting and different level. Collect the treasure, escape your enemies or just kill them and pave the way to the land.
– Lots of enigmatic levels – all available and unlocked.
– Clever and angry native people, who what to kill you. They know underground better then you that's why try to do your best to outwit them.
– Too much lost gold and jewels.
– An indescribable feeling of dungeons and ancient world.
– Handy game play
– An intriguing musical arrangement keeps you in suspense
Only your own skill and wisdom will help to make a fortune. With Lode Runner: the Legend you can explore unknown dungeons and recall your memories from childhood.
*****
We would like to hear your opinion about our games. Any ideas, suggestions, queries are welcome.
If you have some problems with Avko Labs app please let us about it and we will resolve it as soon as possible.
*****