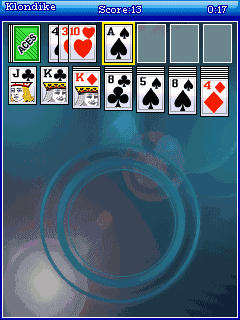 Tag:
Solitaire
9700 games
Aces
Overview :
Aces Solitaire Pack 89,96,9700 games
Model:
Blackberry 71XX Series (240*260) Devices Models: 7100, 7110t, 7105t, 7100r, 7100v, 7100g, 7100x, 7100i, 7130e, 7130c, 7130g, 7130v/Blackberry 81XX Series (240*260) Pearl Devices Models: 8100, 8110, 8120, 8130/Blackberry 82XX Series (240x320) Pearl Flip Devices Models: 8200, 8220, 8230/Blackberry 8350i (320*240) Related Devices Model: 8500, 8520/Blackberry 83XX Series (320*240) Curve Devices Models: 8300, 8310, 8320, 8330 / Blackberry 87XX Series (320*240) Devices Models: 8700c, 8700r, 8700f, 8700g, 8703e, 8707, 8707g, 8707v .etc /Blackberry 88XX Series (320*240) Devices Models: 8800, 8820, 8830 .etc /Blackberry 89XX (Javelin) Curve Series (480*360): 8900/Blackberry 90XX Bold (Onyx) Series (480*320) Devices Models: 9000, 9020(Onyx)/Blackberry 96XX Tour (Niagara) Series (480*360):9600, 9630, 9700(Bold)
Description:
Aces Solitaire Pack is a full featured, totally customizable solitaire game with all the favorite classic solitaire games including Klondike (Standard), Spider, Free Cell and many more, Aces Solitaire Pack is the ultimate solitaire game.
Features:
• Includes 15 different solitaire games with options to make over 1500 variations.
• Games include FreeCell, Spider, Klondike, Pyramid, Golf, and many more!
• Current game, session, overall, and individual game statistics.
• Sound and vibration options.
• Background - choose a single background or rotating backgrounds.
• Customize backgrounds - darken backgrounds or choose any color.
• Full animation for cards including options to increase/slow animation speed.
• Game customizations include number of cards to draw, timer, number of deals, starting rank, cards face up, number of free cells, and many more.
• Play with scoring on or off and timer or current time.
• Scrolling options for speed and orientation.
• Smart moves options - move cards automatically.