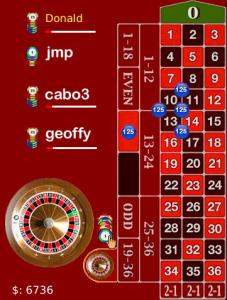 Tag:
GT Roulette
Overview :
GT Roulette Online v1.1.5
Description:
You play with other BlackBerry users. Hundreds of thousands of players are playing together each day. Whenever you go online you won't be alone.
Gold Thumb: Where Finger Meets Finger
From customers --
This is just like shreveport!!!!!
Woo-hoo!!! Finally a roulette game that works well & is fun! Once you get the hang of the controls, it's casino time. Feels like I'm truly gambling my life away!
pretty decent. Its a little hard to understand the controls at 1st but after that, pretty good
It works the way it should... Would be cool to see everyone else's winnings though. Remember to register (no email req.) and wait a second for other people to join.
Download! Its fun! Easy to learn if you never played roulette before!
I think people who don't like this game should check with their service provider. Game works great.
This game is pretty good if you know how to play roulette. The graphics could be a little better but they are fine.
It passes the time
Play with real people all over the world.
Super easy to play.
Chat with other players.
Top 10 and your ranking.
Server average response time less than 1 second.
Storm portrait & landscape modes supported.
Model:
Blackberry 82XX Series (240*320) Pearl Flip Devices Models: 8200, 8220, 8230/Blackberry 8350i (320*240) Related Devices Model: 8500, 8520, 8530, 9300(Kepler), 9330/Blackberry 83XX Series (320*240) Curve Devices Models: 8300, 8310, 8320, 8330 / Blackberry 87XX Series (320*240) Devices Models: 8700c, 8700r, 8700f, 8700g, 8703e, 8707, 8707g, 8707v .etc /Blackberry 88XX Series (320*240) Devices Models: 8800, 8820, 8830 .etc /Blackberry 89XX Curve Series (480*360): 8900(Javelin), 8910(Atlas), 8930, 8950, 8980/Blackberry 90XX Bold (Onyx) Series (480*320) Devices Models: 9000, 9020(Onyx)/Blackberry 96XX Tour (Niagara) Series (480*360):9600, 9630, 9650(Tour2), 9700(Bold2), 9780, Dakota, Apollo /Blackberry 95XX Storm Series (360*480):9500, 9510, 9520, 9530, 9550(Storm2), 9570(Storm3), 9800(Torch), Torch2/Blackberry Pearl 3G Series (360*400) Devices Models: 9100, 9105, 9670(Style)