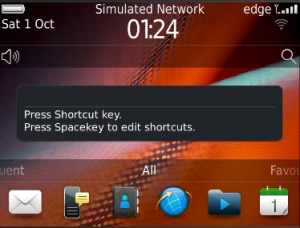 Tag:
Zapp
Overview :
Zapp - simplest shortcut manager v0.9.11
os: 5.0, 6.0, 7.0
Model: Pearl 9100 3G, Pearl 9105 3G, Curve 8520, Curve 8530, Curve 8900, Curve 8910, Curve 8980, Bold 9000, Curve 9300 3G, Curve 9330 3G, Tour 9630, Bold 9650, Style 9670, Bold 9700, Bold 9780, Bold 9788, Curve 9350, Curve 9360, Curve 9370, Torch 9800, Torch 2 9810, Bold 9900/9930
Description:
manual is available at ildoo.net/bbapps
It has been annoying that you have to scroll down to find apps.
This app, Zapp, is launched from homescreen by pressing 'Z' key and ready to launch your favorite apps like facebook, twitter, whatsapp, bbm, etc!
The following is the description of how to launch you favorite apps.
1. Press Z key from your home screen or convenience key(you have to assign it before)
2. Press Shortcut to your favorite app(facebook, calendar, twitter, whatsapp, ...).
(if you press shortcut more than 2 seconds, then it is automatically cancled)

And The following is how to set shortcuts for apps.
1. Press Z key from your home screen to launch this app.
2. Press Space key to configure shortcut options.

With this convenient app, Make your bb life simple! :)

***
This version(0.9) has a known problem that some Rim apps can't be launched.
If you have any trouble, Contact me.

***
To enable shortcut, please disable "Dial from home screen" option through Phone, Options.
(BlackBerry® Pearl™ does not support shortcut)