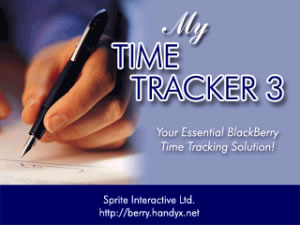 Tag:
9900 apps
Tracker
MyTime
Overview :
MyTime Tracker 3 v1.2
Model:
Blackberry 81XX Series (240*260) Pearl Devices Models: 8100, 8110, 8120, 8130/Blackberry 82XX Series (240*320) Pearl Flip Devices Models: 8200, 8220, 8230/Blackberry 8350i (320*240) Related Devices Model: 8500, 8520, 8530, 9300(Kepler), 9330/Blackberry 83XX Series (320*240) Curve Devices Models: 8300, 8310, 8320, 8330 / Blackberry 87XX Series (320*240) Devices Models: 8700c, 8700r, 8700f, 8700g, 8703e, 8707, 8707g, 8707v .etc /Blackberry 88XX Series (320*240) Devices Models: 8800, 8820, 8830 .etc /Blackberry 89XX Curve Series (480*360): 8900(Javelin), 8910(Atlas), 8930, 8950, 8980/Blackberry 90XX Bold (Onyx) Series (480*320) Devices Models: 9000, 9020(Onyx)/Blackberry 96XX Tour (Niagara) Series (480*360):9600, 9630, 9650(Tour2), 9700(Bold2), 9780, Dakota, Apollo /Blackberry Pearl 3G Series (360*400) Devices Models: 9100, 9105, 9670(Style)/Blackberry 99XX (OS 7.0) Series (640*480) Devices Models: 9900, 9930
Description:
The number one time management application.
Don't think you can handle it all? Well, MyTime Tracker 3 can! MyTime Tracker 3 can track large amounts of data and contains many additional features.
When you download MyTime Tracker 3, you won't just add software to your BlackBerry. You'll receive a Desktop PC version, too!
Our advanced software allows you to sync data from the BlackBerry and the PC. Both feature an intuitive interface, so you can enter data quickly and easily!
BlackBerry Application
MyTime Tracker 3 is designed to synchronize with MyTime Tracker 3 on your Desktop.
Record timed events.
Track the time spent on tasks to one or more clients.
Use common description pre-sets to speed up data entry.
Track entries in a clear spreadsheet format.
View highly-detailed entries by date.
Add entries in Euros, dollars and sterling.
Desktop Application
The Desktop application contains all the features of the BlackBerry version, and more!
Enter data using your computer keyboard and synchronize it with your BlackBerry.
Load data back-ups before synchronizing.
Intuitive date and client filters help you find events of interest quickly. Export data in an Excel-compatible (.csv) format.
Print records directly from the application.