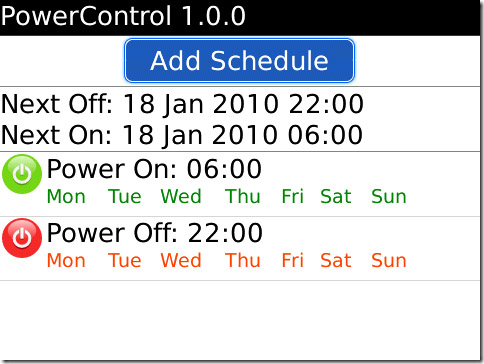 Tag:
PowerControl
Overview :
free PowerControl for blackberry apps
Model:
Blackberry 71XX Series (240*260) Devices Models: 7100, 7110t, 7105t, 7100r, 7100v, 7100g, 7100x, 7100i, 7130e, 7130c, 7130g, 7130v/Blackberry 81XX Series (240*260) Pearl Devices Models: 8100, 8110, 8120, 8130/Blackberry 82XX Series (240x320) Pearl Flip Devices Models: 8200, 8220, 8230/Blackberry 8350i (320*240) Related Devices Model: 8500, 8520/Blackberry 83XX Series (320*240) Curve Devices Models: 8300, 8310, 8320, 8330 / Blackberry 87XX Series (320*240) Devices Models: 8700c, 8700r, 8700f, 8700g, 8703e, 8707, 8707g, 8707v .etc /Blackberry 88XX Series (320*240) Devices Models: 8800, 8820, 8830 .etc /Blackberry 89XX (Javelin) Curve Series (480*360): 8900/Blackberry 90XX Bold (Onyx) Series (480*320) Devices Models: 9000, 9020(Onyx)/Blackberry 96XX Tour (Niagara) Series (480*360):9600, 9630, 9650(Tour2), 9700(Bold) /Blackberry 95XX Storm Series (360*480):9500, 9510, 9520, 9530, 9550(Storm2)
Description:
PowerControl is the ultimate battery saving tool! It allows you to schedule your device to turn off and back on when you want.
What PowerControl Does:
PowerControl is a handy software that helps you automatically shutdown and power off at a scheduled time you specified. It allows you to set up a power off and on schedule from Monday to Sunday and you can even set up a different schedule for each day.
By shutting down the BlackBerry® on regular basis, a lot of battery power can be saved!
Example:
Imagine you work from Monday to Friday and every day you sleep 6 hours. In these 6 hours most people do not need the device to be switched on and waste battery. You could turn off the device before you go to bed, but this is hard to remember every single day. With PowerControl you will never forget to turn your BlackBerry® off and back on.
Another example would be that you want to have the Wednesday lunch with your buddy without any interruption. Just set a PowerControl schedule to turn the device off every Wednesday at 1 pm and turn it back on at 2 pm. You have the break you deserve and you even save battery!
Check out PowerControl now!
Please leave a review if you like it.