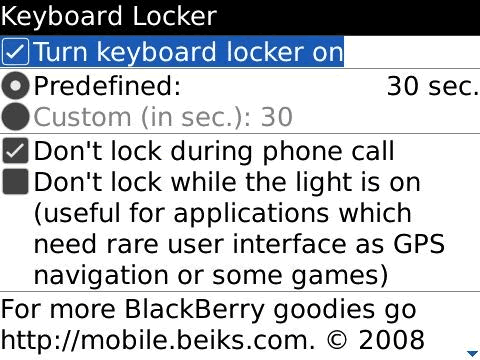 Tag:
Keyboard
9600 apps
Locker
Overview :
Keyboard Locker for blackberry applications
Model:
Blackberry 81XX Series (240*260) Pearl Devices Models: 8100, 8110, 8120, 8130/Blackberry 82XX Series (240x320) Pearl Flip Devices Models: 8200, 8220, 8230/Blackberry 8350i (320*240) Related Devices Model: 8500, 8520/Blackberry 83XX Series (320*240) Curve Devices Models: 8300, 8310, 8320, 8330 / Blackberry 87XX Series (32Z0*240) Devices Models: 8700c, 8700r, 8700f, 8700g, 8703e, 8707, 8707g, 8707v .etc /Blackberry 88XX Series (320*240) Devices Models: 8800, 8820, 8830 .etc /Blackberry 89XX Curve Series (480*360): 8900(Javelin), 8910(Atlas)/Blackberry 90XX Bold (Onyx) Series (480*320) Devices Models: 9000, 9020(Onyx)/Blackberry 96XX Tour (Niagara) Series (480*360):9600, 9630, 9650(Tour2), 9700(Bold) /Blackberry 95XX Storm Series (360*480):9500, 9510, 9520, 9530, 9550(Storm2)
Description:
Those used to carrying their BlackBerry in a pocket, bag, purse and practially anywhere other than a dedicated holder have certainly come accross the unpopular - and sometimes costly - effect of the outside world to an unlocked phone: random meaningless notes, new agendas, calls to surprised friends and relatives etc. etc.
The BEIKS Keyboard Locker comes to rescue as a simple and free application that automatically locks the keyboard of your BlackBerry upon a short amount of idle time.