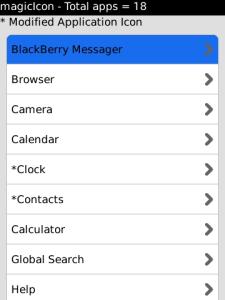 Tag:
magicIcon
Overview :
Model:
Blackberry 8350i (320*240) Related Devices Model: 8500, 8520, 8530/Blackberry 83XX Series (320*240) Curve Devices Models: 8300, 8310, 8320, 8330 / Blackberry 87XX Series (320*240) Devices Models: 8700c, 8700r, 8700f, 8700g, 8703e, 8707, 8707g, 8707v .etc /Blackberry 88XX Series (320*240) Devices Models: 8800, 8820, 8830 .etc /Blackberry 89XX Curve Series (480*360): 8900(Javelin), 8910(Atlas)/Blackberry 90XX Bold (Onyx) Series (480*320) Devices Models: 9000, 9020(Onyx)/Blackberry 96XX Tour (Niagara) Series (480*360):9600, 9630, 9650(Tour2), 9700(Bold2) /Blackberry 95XX Storm Series (360*480):9500, 9510, 9520, 9530, 9550(Storm2)/Blackberry Pearl 3G Series (360*400) Devices Models: 9100, 9105
Description:
magicIcon - Change system and 3rd party application icons.
Note: Do a battery pull after you installed the app. If you still have problems running the app do a second battery pull to reset the device.
Visit our website for updates that includes Theme manager for iPhone, Linux and Android.
Every wanted to change some of the system icons or 3rd party applications and do not want to install a custom Theme? or you just want to change one icon on the Theme? Well you can with magicIcon.
The picture can be any format jpg, png, gif as long as the BB support it. The best result is edit your picture or icon to match with the BlackBerry® OS icon size on the desktop computer and then save it to the sd card. For Storm™ and Tour™ the format size is 73 x 73. If the picture is larger than the icon size then it will be resized.
Changes to all application s icon are persist during a reset meaning they will not be reset to the default icon.
magicIcon also works with all custom Themes. You can change the application s icon.
Note: Not all system application s icon can be changed.
Here are the list of system apps that can be changed. On some OSes you can not change the Browser but others you can.
You can also use the Advanced feature to change other System application icons like Manage Connections, Music, Media, Messages etc...

BlackBerry® Messager™
Browser
Calendar
Calculator
Camera
Contacts
Clock
Global Search
Help
Maps
Memo
Options
Password Keeper
Setup Wizard
Task
Video Recorder
Voicenote Recorder
and almost all 3rd party apps like the WordToGo, SlideShow
Features

Works with BlackBerry OS 4.7 and higher
No Custom Theme required
Works with all custom Themes
Change some of the system application s icon
Change most 3rd party application s icon
Use any picture format eg: jpg, png, gif that are supported on the BlackBerry
Icon changes persist during a reset
Very easy to use