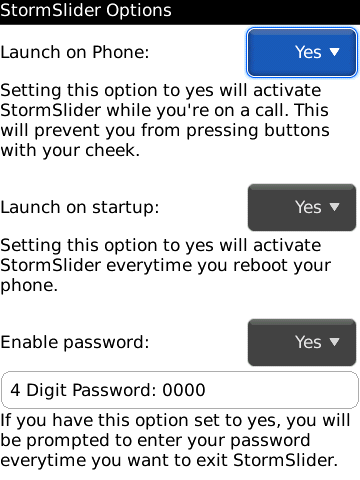 Tag:
StormSlider
Overview :
StormSlider v5.5
Model:
Blackberry 95XX Storm Series (360*480):9500, 9510, 9520, 9530, 9550(Storm2)
Description:
This should work for the Storm 1 and Storm 2
After you install the application please make sure you set all your permissions to allow or the app may not work correctly.
If you're running the new 5.0 version the Options are now inside the application itself. While the app is running simply click the menu key and select Options.
************
As you probably know RIM's default lock is rather sluggish and boring. That's where BerrySlider comes into play.

Launching the App-----------------------
Depending on what options you choose the lock will automatically activate when:
The Screen Fades Out: When ever your screen fades out and you click the screen to turn it back on you will be presented with the BerrySlider. You will have to slide to unlock your phone.
When you phone restarts: You can turn this option on or off depending on what you want. When it's set to on though BerrySlider will launch right when your phone restarts. This will prevent people from gaining access to your phone (if you have a password set)
Storm only - When on the phone: If you have this option set to yes BerrySlider will activate 3 seconds after your call has been connected. This is a great feature as you can no longer press buttons with your cheek.

Security-----------------------
You have the option to enter a 4 digit password on the app. When you slide to unlock, you will be presented with a keypad. You will need to enter the 4 digit code to unlock the app. If the code is entered incorrectly the keypad will close and the lock will not close. While developing this application I locked myself out of my phone 3 times on accident.
New / Updated Features:
Much improved battery life
Consumes less memory
Portrait Lock
BerryWeather Intergration
BBM, Email, SMS / MMS & Facebook Notifications
Backup / Restore / Default Options to SD card
Better options menu