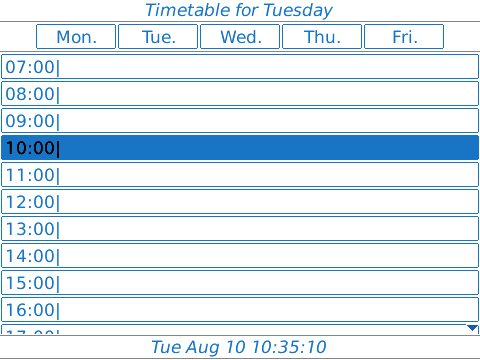 Tag:
Diary
Student
Overview :
free Student Diary v1.0.1 for blackberry apps download

Description:
Are you a Student?
Do you find it tricky to stay organized?
Getting sick of expensive apps to manage your Student life on your BlackBerry?
We at Genius Development know how much you folk like bargains because we are also Students!
'Student Diary' is a handy little app that will help you stay organized in your Student life!
(Minimum BlackBerry OS 5.0 Required)
Features:
•Manage Your, Timetable, Assignments, Projects (with Task Management), Modules (Classes)
•Call/Email Academic Contacts directly from the App! (and import from Address Book).
•Get Alerts One Week, Three Days and One Day before an Assignment or Project is Due!! (yes, we have all missed or have had delayed submissions because we all forget sometimes).
•(Note: More features will be added as time permits)

Minimum Requirements:
•OS 5.0
Display Dimensions
320x240, 360x400, 360x480, 480x320, 480x360
Operating System
5.0 Non-Touch, 5.0 Touch Screen, 6.0 Non-Touch, 6.0 Touch Screen
Model:
Blackberry 8350i (320*240) Related Devices Model: 8500, 8520, 8530, 9300(Kepler)/Blackberry 89XX Curve Series (480*360): 8900(Javelin), 8910(Atlas), 8950, 8980/Blackberry 90XX Bold (Onyx) Series (480*320) Devices Models: 9000, 9020(Onyx)/Blackberry 96XX Tour (Niagara) Series (480*360):9600, 9630, 9650(Tour2), 9670, 9700(Bold2), 9780 /Blackberry 95XX Storm Series (360*480):9500, 9510, 9520, 9530, 9550(Storm2), 9800(Torch)/Blackberry Pearl 3G Series (360*400) Devices Models: 9100, 9105